The Smarter Carter
Industrial Carting
Premier Professional Waste Management Services Based on Exceptional Customer Service
We're a Brooklyn West-based third generation company
With a professionally trained staff and fleet of late-model trucks with on-board scales, we ensure dependable service and accurate waste stream measurements.
Our Downtown Brooklyn trucking hub and company-owned recycling facility enables efficient access to customers, allowing for timely service and the most cost-effective pricing.
Our 3 Year Diversion Rate
of our total waste collected is recycled. (That's good!)
Brooklyn West's #1 Commercial Waste Removal and Recycling Service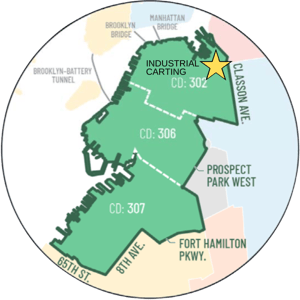 Brooklyn West
Commercial Waste Zone
NYC legislation established a city wide program, scheduled to begin in 2023, creating 20 geographic zones, each serviced by up to three waste companies. Industrial Carting specializes in the Brooklyn West zone.
...We are especially proud of our 15-year work with Industrial Carting on collecting organics waste, being ahead of the curve on a responsible best practice.
Virginia Dare
Industrial Carting has maintained the highest standards of service, safety and is leading efforts in sustainability through their commitment to reduce emissions, their focus on pedestrian and cycling safety and their efforts to improve noise pollution through their use of enhanced hydraulic technology. Industrial Carting is already at the forefront of meeting the City's proposed outcomes and is well suited to continue servicing our neighborhood.
Gowanus Canal Conservancy
…the Myrtle Avenue BID wants to acknowledge Industrial Carting's exceptional service and commitment to safety and sustainability, and express our desire for our member businesses to continue to work with Industrial Carting…
Myrtle Avenue BID
Subscribe to our newsletter
Receive updates on service, recycling and regulatory issues.